OPJ // ODE palace of justice Amsterdam // NL


Project:

Architect:
Consultants:
Client:
Date:
Building surface:
Program:
Status:
Location:

Development- and design vision for the new court of justice of Amsterdam
Miguel Loos / HUB
CIIID, Graphic Language
Bouwfonds MAB
2005
40.000 m2 bvo
Courthouse, offices, parking
invited competition entry
Oosterdokskade, Amsterdam, NL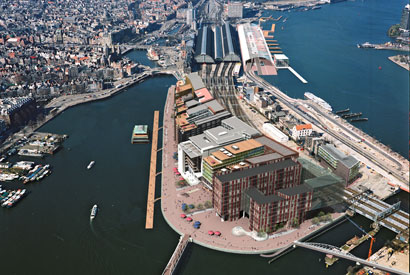 We were asked to develop a preliminary design for a new Palace of Justice, to be located on Oosterdokseiland. We suggested two alternatives: one based on a renovation of the existing Post-CS- building, the other one based on the construction of a completely new building.

The programme for the Palace of Justice is complex and has very precise requirements concerning circulation between cell complex, court rooms, public halls and offices. Both of our design alternatives evolve around a top-lit public space, which forms the core of the spatial organisation of the building.

The court rooms are part of this public core, from which the vertical connection with the cell complex is clearly separated. The office spaces are located on top of the building, enclose the courtyard and have great views over both the Oosterdok and the river IJ.