EHS // Erasmus Hogeschool RITS Brussels // BE
Project:

Architect:
Consultants:
Client:
Budget:
Date:
Building surface:

Status:
Locatie:

Conversion of a former chocolate factory into a media school
Miguel Loos / HUB
BB, BAS, Graphic Language
Erasmus Hogeschool Brussel
€ 2.200.000
2003
Studios, classrooms, administration, gallery (ca 4.450 m2 in total)
invited competition, 2nd prize
Pavenvest, Brussel, BE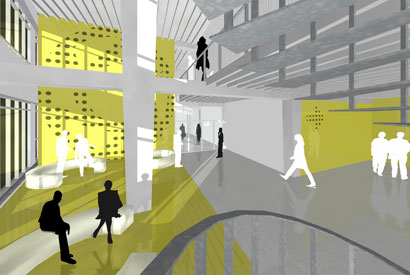 This transformation of a former bonbon factory into a school for film and theatre had a very restricted budget and therefore required a powerful concept.

Even more so than in other schools, these students need surroundings which offer a maximum of creative freedom and stimulate the working spirit. Therefore we aimed at creating a workshop atmosphere which can be filled in by the students.

The rough appearance of the building is largely maintained. Only the rooms which form the core of the school receive a special treatment.

In view of the extremely low budget, our strategy was to create a restrained and functional overall design, within which specific spots are enhanced. In addition, the concept had to leave space for common areas, voids, etc.