NMAD // National Museum Vestbanen Oslo // NO


Project:

Architect:
Advisors:
Client:
Date:
Building surface:

Team:


Renderings:
Status:
Location:

National Museum for art, design and architecture, Oslo, Norway
LOOS ARCHITECTS & bureau SLA
ARUP / Peter Mensiga
Statabygg Oslo
2009
50.000m2 museum plus 29.000m2 adjacent office space
Miguel Loos & Peter van Asse, Ewoud Ruifrok, Katalin Toth, Goncalo Moreira, Jelena Pancevac
Eyal Shmuel / Vingt Six
compentition entry
Vestbanen, Oslo, NO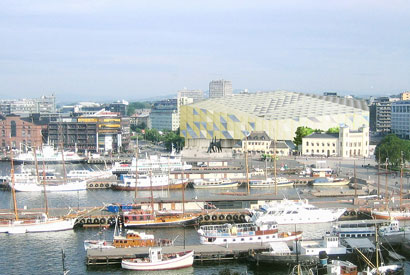 The task of the new museum complex should be to connect in a clever and sophisticated manner to the urban tissue, while at the same time reacting sensitively to the existing buildings on the site. As a national museum, of course it has to be an icon - but not an alien.
Seen from far away, the building is determined by its sculptural roofline. The footprint of the building has the shape of a simple rectangle, composed of four triangles that have been pushed together. These triangles represent the four departments of the museum. In the centre of the composition of triangles, we cut out a large void.
On ground level, the void is a semi-public area, inviting people to visit the public functions around it. Under the lobby level lies the dispatch level. On the two storeys above the lobby are the offices, restaurators' workshops and the depot. Accessed by an escalator, the exhibition halls are all situated on the 3rd and 4th storey and connect to the roof, which is perforated with triangular rooflights. Each department of the museum is an autonomous entity with high areas for the exhibition of large objects, but also small cabinets and balcony-like spaces.